6 Reasons Roofing Companies Fail and How to Avoid These Mistakes
Aug 05, 2023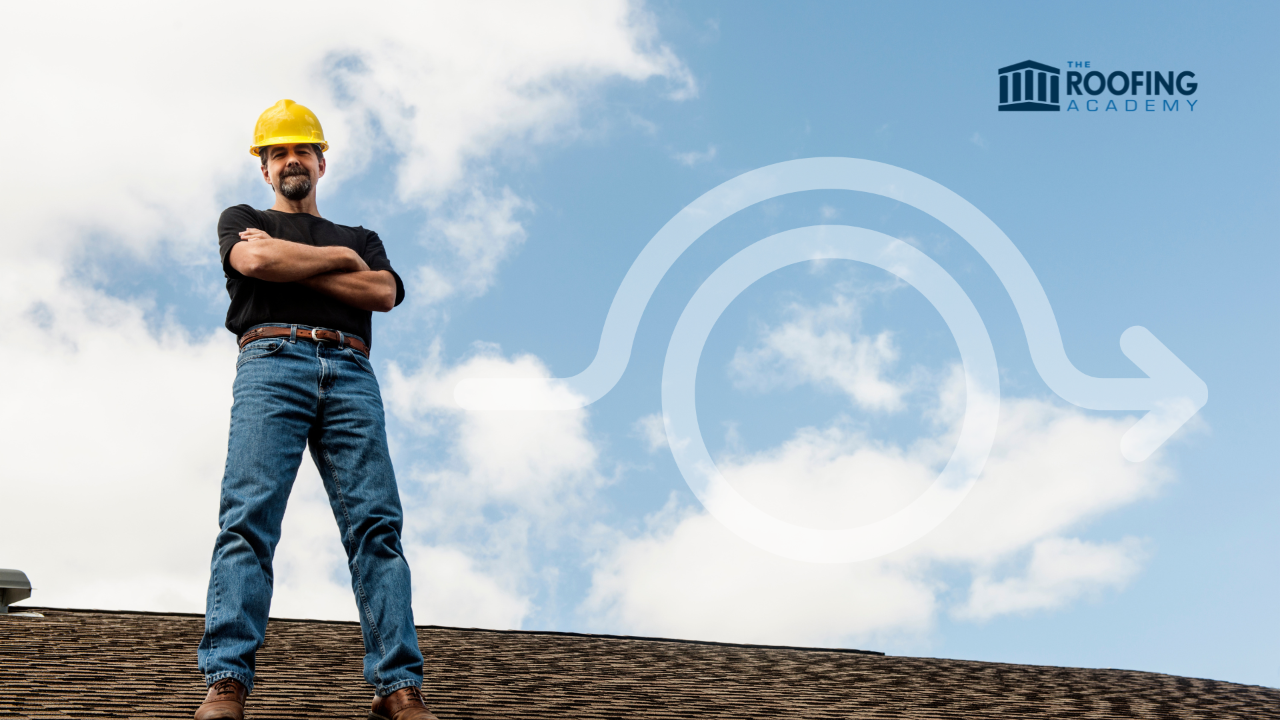 The Roofing Academy team is extremely passionate about helping new roofers fulfill their lifelong dream and launch their own roofing business. We have seen many roofers do so successfully over the years and nothing brings us more joy than getting the chance to see a new roofer turn their first profit or hire their first employee. The roofing industry is an incredible community and we welcome newcomers with open arms.
Unfortunately, for every success story we see, we also see a new roofing business that struggles in the beginning and some that fail entirely. This is disappointing for every new venture, but for someone with the heart and passion of a contractor, this is especially difficult to see.
Through years of conversation and observation, the Roofing Academy team has been able to identify common pain points that new roofing businesses struggle with. In order to help you overcome these obstacles we are sharing the top 5 reasons roofing companies fail with you today. Keep reading below to learn more!
1. Lack of business knowledge
When roofing contractors decide to strike out on their own, they often choose to do so because they are an expert in their field. They know roofing better than anyone else on their team and they feel they have what it takes to make it on their own. While this is fantastic and industry knowledge is certainly important, it is not the only thing that matters.
In order to make it in the roofing business, it is crucial that you have business knowledge as well as contracting experience. As a business owner everything from accounting, finance, payroll, human resources, and sales all fall back on you. Without at least a baseline knowledge in these areas, success is more difficult to reach.
In order to mitigate this risk, there are a few options for you to consider. First, consider taking a business class or classes in order to expand your knowledge before striking out on your own. Second, consider going into business with a partner who is an expert in the areas you are lacking. A partnership will help take some of the pressure off of you and having another set of skills will better ensure success.

2. Poor hiring decisions
No matter what industry you work in, the people you hire will make or break your business. As the owner of a roofing company, you will likely have a do-it-yourself mindset in the beginning. To save costs you'll handle projects yourself until suddenly you reach a point that you have grown too much and need to bring on an extra set of hands. Oftentimes, new roofing companies reach this point in the blink of an eye. One day you are handling everything just fine and the next you are completely overwhelmed.
When business owners get to the point of being stretched too thin, they often make rushed and sometimes poor hiring decisions. They know they need the extra hands and they hire the first applicant they receive without checking references or qualifications. This can lead to hiring inexperienced or unprofessional contractors who show up late to jobs or complete projects incorrectly, jeopardizing your reputation in the community.
In order to avoid making hiring mistakes at your roofing company, start hiring before you really need the help. Doing so will allow you to properly vet applicants and ensure you hire the right people to help you grow your new roofing business.

3. Failure to invest in marketing
Gone are the days when word-of-mouth marketing or fliers on a telephone pole were enough to help get a new roofing company (or any company) off the ground. Without having a proper marketing strategy in place that includes search engine optimization, social media channels, Google AdWords, and a customer reference program, you are likely to hit a limit to your growth potential
A lack of effective marketing and sales strategies can hinder a roofing company's ability to attract new clients and generate consistent revenue. Without a strong online presence, targeted marketing campaigns, and a proactive approach to sales, a company may struggle to stand out in a competitive market and secure profitable projects.
Early on, consider working with a marketing consultant to help ensure you are getting the word out about your new business in a way that makes sense for the industry. Doing so will legitimize you in the community and help you cast a wider net than you otherwise would have.
4. Unwillingness to adapt
Contractors are a notoriously stubborn group of people and while this may help ground our company's values and ethics, it does not help when it comes to adaptability. The roofing industry is a rapidly evolving and changing industry. New and better technology emerges every day and to stay competitive it is crucial that we stay on the frontlines. You may like the way you do things now, but a client is likely looking for the latest and greatest.
To stay up-to-date with the latest advancements in roofing technology, it is crucial to actively engage in industry events and educational opportunities. By doing so, you not only position yourself as a more desirable contractor but also enhance your appeal as an employer. Regular participation in such events and learning experiences ensures that you remain at the forefront of industry trends and maintain a competitive edge.
5. Poor leadership
We have all heard the saying, "People don't quit jobs, people quit bad bosses," and in the roofing industry it is especially true. The roofing industry is competitive, labor-intensive, and downright exhausting work. It can also be incredibly fulfilling, rewarding, and fun work when done in the right environment.
In order to truly grow your roofing business into a successful company, you need to become a leader that your employees trust and believe in. You are responsible for their safety, their livelihood, and their career development. It is important that you always put your employees first, listen to their concerns, and foster a positive workplace in order to retain talent.
One of the best investments you can make for your roofing business is in education, mentorship, and support. Having resources to turn to when you encounter challenges along your journey will empower you to overcome them and continue to grow.
The Roofing Academy is committed to giving our members the tools, training, and development that they need in order to launch and grow a thriving roofing business. Contact us today to learn more about our membership and service offerings.
6. Lack of Financial Management
Poor financial management is one of the main reasons roofing companies fail. This includes issues such as inadequate budgeting, insufficient cash flow management, and failure to monitor expenses. Without proper financial planning and control, a company may struggle to cover costs, invest in growth opportunities, and sustain operations during lean periods.
At The Roofing Academy, we understand the significance of numbers in your roofing business. To assist you in gaining a comprehensive understanding of your financials and charting a path toward your financial freedom goal, we have developed a powerful tool known as the Roofing Success System Financial Plan.
This unique tool empowers you to effectively assess your current financial status, enabling you to plan your next steps strategically. By utilizing the Roofing Success System Financial Plan, you'll gain valuable insights into your business's financial health and identify areas for improvement. Our ultimate aim is to help you achieve the financial freedom we all desire, so you can confidently navigate the path to success in your roofing business.


Learn How You Can Build Your Own Multi-Million Dollar Roofing Business

Whether you are just getting started, have an established company that needs help turning things around, or anything in between, we want to help transform your way of thinking and your business. By joining The Roofing Academy, you will also be able to meet and network with like-minded individuals with the same goals: success, freedom, and happiness.
GET TO CLASS