Conducting QBRs for Your Roofing Business
Aug 05, 2023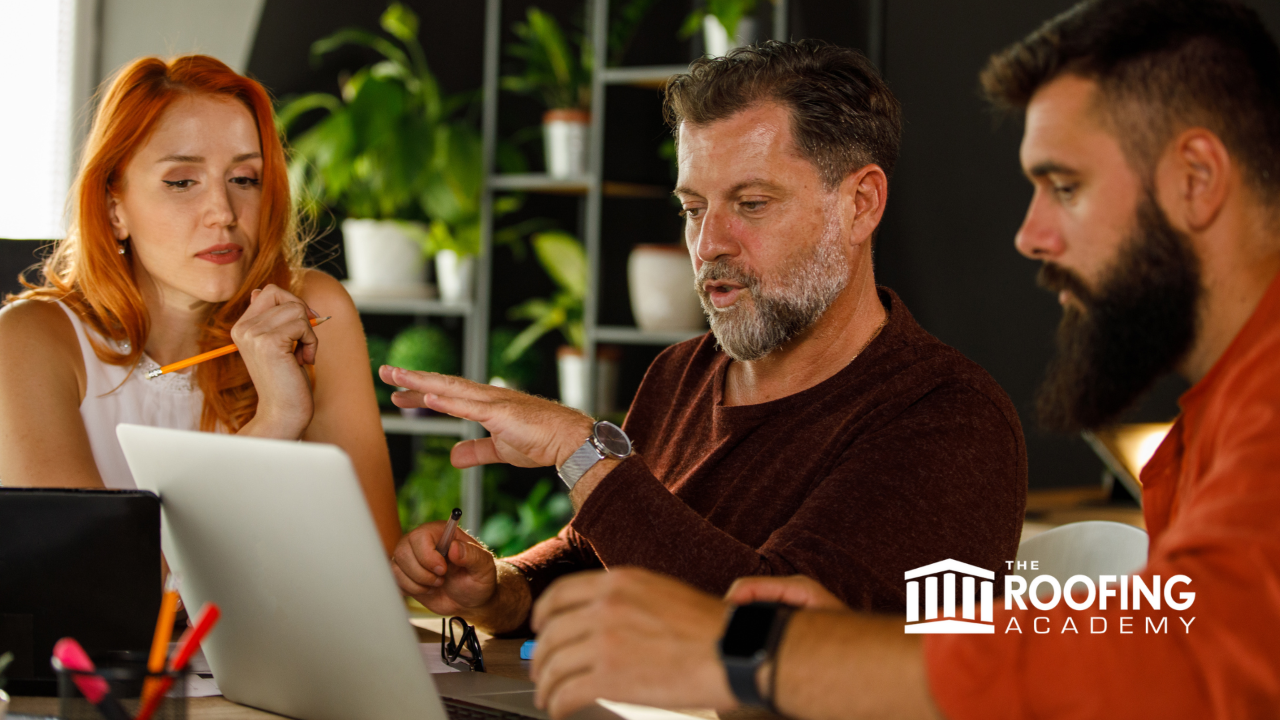 If you're aiming for revenue and sales growth as one of the key objectives for your roofing company this year, it's important to prioritize internal quarterly business reviews. These reviews allow you to assess your performance and strategize for the upcoming quarter, ensuring you stay on track toward your goals.
Internal quarterly business reviews (QBRs) have become a widely adopted practice among sales teams nationwide. These reviews provide a valuable opportunity for the entire team to come together, reflect on the achievements of the previous quarter, set goals for the upcoming quarter, exchange constructive feedback, and learn from each other. In essence, QBRs offer your sales team a valuable platform for comprehensive evaluation and growth.
What is working?

What is

not

working?

Where can the team improve?

What is everyone focused on doing better this quarter?
Today, the Roofing Academy team is excited to provide you with a high-level overview and general expectations to prepare your roofing team for your inaugural internal QBRs. We will guide you through the necessary steps to ensure a successful and productive QBR experience.
Who are the key players?
Typically, anyone who is involved in your roofing company's sales process is going to be involved in the QBR process. This might look different from business to business, but generally speaking, you should include:
Sales representatives

Sales leadership

Project managers

Company leadership
What is expected of your team?
In an average QBR, it is expected that your sales representatives and potentially project managers will come prepared with a presentation to share with the team. Presentations normally speak to:
Deals that they won
Deals that they lost:

Why was the deal lost?

If lost to a competitor, why that competitor?

Where can they do better next time?

Lessons learned from this quarter
Opportunities for growth for next quarter
Any deals they have stuck in the pipeline
Areas they are struggling with
In addition to a presentation on themselves that they have prepared to review, it is also important the team is ready to chime in with feedback for their teammates throughout the meeting.
What is expected of leadership?
As leaders of your roofing company, it is important that sales leadership and company leadership prepare a presentation as well. This presentation can speak to:
Team sales trends

Where is the team winning?

Where is the team struggling?

Team updates

New hire introductions

Leadership changes

Process/procedures updates

Feedback to individuals
Feedback to the team as a whole
Review company goals and discuss where the team is compared to said goals
It is important to note that although it is important for leadership to come with feedback, it is crucial that leadership keeps QBRs positive! Don't use this time to berate an employee for their misses. Instead, focus on the positives, give constructive feedback, and try to inspire your team.
You can also use part of the time allocated for QBRs to conduct sales development training with your team. Providing training and development opportunities is important for both employee satisfaction and team success.
How can you use QBRs to improve?
By examining your sales team's performance as a group, you tend to pick up trends or common issues that you may not spot from a birds-eye view on a spreadsheet. Listen carefully to what is going well and what is not. Are there common themes? If so, is change necessary from a leadership or total company standpoint?
After your QBRs are over, it is important that you don't just forget about them until next quarter. Encourage each of your team to come away with takeaways and at least one measurable goal for the next quarter. Talk through this goal during your next one-on-one and use this goal to measure their success in the new quarter.
Other Best Practices
When possible, it is great to hold QBRs in person. This gives the team a chance to bond and ensure no one is distracted by their email all day.

Remember that people are motivated by positivity. Even if last quarter was tough, you as a leader need to stay positive and inspiring.

Encourage group participation. It's one thing to have your sales manager lecture you all day, but having your team give tips and advice goes a long way.

Congratulate the team members that really went above and beyond, use this time as a chance to say thank you and recognize their hard work.
QBRs are a fantastic tool to add to your roofing company's toolkit and when done consistently can help make a real difference to your roofing company's sales figures. If you found this article helpful, take a look at the membership options the Roofing Academy offers to see what other tools you could pick up from our team!
Learn How You Can Build Your Own Multi-Million Dollar Roofing Business

Whether you are just getting started, have an established company that needs help turning things around, or anything in between, we want to help transform your way of thinking and your business. By joining The Roofing Academy, you will also be able to meet and network with like-minded individuals with the same goals: success, freedom, and happiness.
GET TO CLASS